70 Days Until Houston 2018 || Half Marathon Training Plan
Intermediate Half-Marathon Training Schedule
Half-Marathon Training Schedule for Intermediate Runners
| | | | | | | | |
| --- | --- | --- | --- | --- | --- | --- | --- |
| Week | Monday | Tuesday | Wednesday | Thursday | Friday | Saturday | Sunday |
| 1 | CT | 30 minutes tempo | Rest or CT | 4 miles | Rest | 5 miles | 3 miles EZ |
| 2 | CT | 4 x 400 IW | Rest or CT | 4 miles | Rest | 6 miles | 3.5 miles EZ |
| 3 | CT | 35 min. tempo | 4 miles | 3 miles | Rest | 7 miles | 3 miles EZ |
| 4 | CT | 5 x 400 IW | Rest | 4 miles race pace | Rest | 7 miles | 3 miles EZ |
| 5 | CT | 35 minutes tempo | 5 miles | 3 miles race pace | Rest | 8 miles | 4 miles EZ |
| 6 | CT | 6 x 400 IW | 5 miles | 4 miles race pace | 2 miles EZ | Rest | 10K race |
| 7 | CT | 40 minutes tempo | 5 miles | 4 miles race pace | Rest | 9 miles | 4 miles EZ |
| 8 | CT | 6 x 400 IW | 6 miles | 3 miles race pace | Rest | 10 miles | 4 miles EZ |
| 9 | CT | 45 minutes tempo | 5 miles | 4 miles race pace | Rest | 11 miles | Rest |
| 10 | CT | 7 x 400 IW | 5 miles | 3 miles race pace | Rest | 12 miles | 3 miles EZ |
| 11 | CT | 45 minutes tempo | Rest | 3 miles race pace | Rest | 5 miles | 3 miles EZ |
| 12 | Rest | 4 miles | 30 minutes 10K pace | 2 miles | Rest | 20 min. | Race Day |
Structure of the Half-Marathon Training Schedule
You can switch days to accommodate your schedule. If you're busy one day, it's fine to swap a rest day for a run day. These are the details of the types of workouts you will do throughout the week.
Cross-training (CT):Cross-training activities allow you to give your joints and running muscles a break, while still working on building your endurance and strength. When the schedule calls for CT, do a cardio activity other than running (biking, swimming, elliptical trainer) at a moderate effort for 45 to 60 minutes. Strength-training, especially your lower body and core, is also very beneficial for long distance runners.
Tempo Run:Tempo runs help you develop your anaerobic threshold, which is critical for faster racing. For a 40-minute tempo run, for example, start your run with 5 to 10 minutes of easy running, then continue with 15 to 20 minutes of running at about a 10K pace. Finish with 5 to 10 minutes of cooling down. If you're not sure what your 10K pace is, run at a pace that feels "comfortably hard."
Pace runs:After a 10-minute warm-up, run at your anticipated half-marathon pace for the designated mileage.
Interval workouts (IW):After a 10-minute warm-up, run 400 meters (one lap around most tracks) hard, then recover by jogging or walking 400 meters. For example, 3 x 400 would be three hard 400s, with a 400-meter recovery in between.
Rest:Rest is critical to your recovery and injury prevention efforts, so don't ignore rest days. Your muscles actually build and repair themselves during your rest days. Fridays are a good day for rest since you will have run on Thursday and you'll have your longest run of the week on Saturday.
Saturday long runs:Run at a comfortable, conversational pace for the designated mileage. You can figure out the mileage of your outdoor routes with resources such as MapMyRun.com.
Sundays:This is an active recovery day. Your run should be at an easy (EZ), comfortable pace, which helps loosen up your muscles and gets you more comfortable with running on fatigued legs.
Video: Sub 2 Hour Half Marathon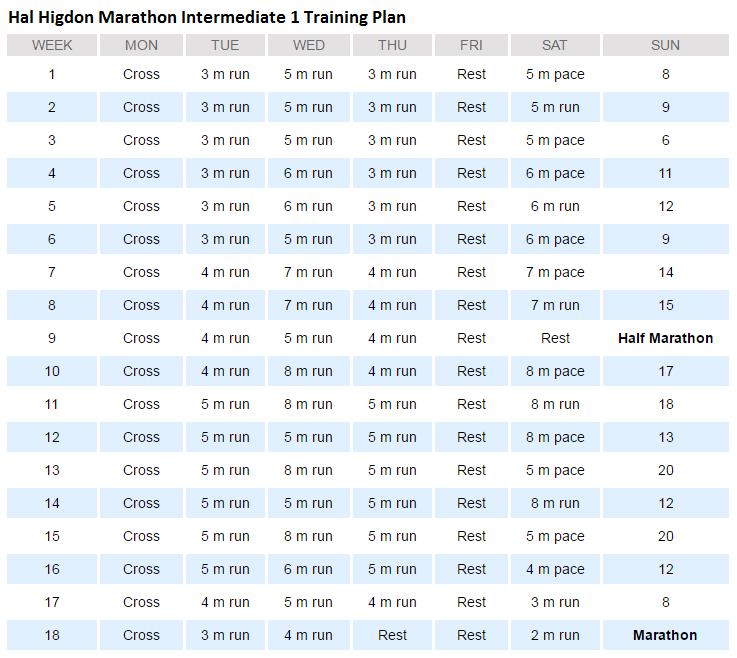 Intermediate Half-Marathon Training Schedule images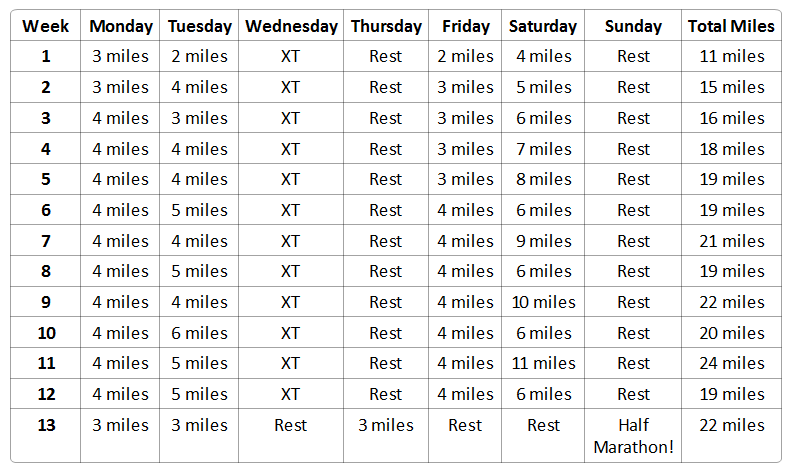 2019 year - Intermediate Half-Marathon Training Schedule pictures
Intermediate Half-Marathon Training Schedule recommendations photo
Intermediate Half-Marathon Training Schedule pics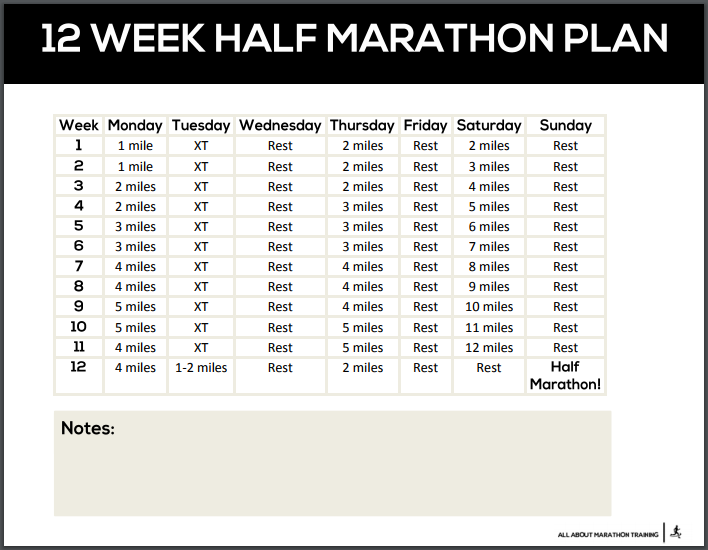 Intermediate Half-Marathon Training Schedule new photo
pictures Intermediate Half-Marathon Training Schedule
Watch Intermediate Half-Marathon Training Schedule video
Discussion on this topic: Intermediate Half-Marathon Training Schedule, intermediate-half-marathon-training-schedule/ , intermediate-half-marathon-training-schedule/
Related News
In deze landen zijn mensen blijkbaar heel onaardig en maak je niet snel nieuwe vrienden
5 Ways To Trick Your Body Into Building More Muscle
Rheumatoid Arthritis: Road, Rail, and Water Travel Tips
Tasty Beverage Alternatives to Help You Give Up Soda for Good
25 Simple Tweaks From Health Coaches That Make a BigDifference
7 Tips to Keep Psoriasis From Ruining Your Holidays
How to Store Fresh Green Beans
Understanding Indigestion
How to Treat Childhood Nephrotic Syndrome
How to Make People Love You
The 12 Best Airbnbs In New York City
My Favorite Kitchen Items
This One-Day Plan Will Help You Bounce Back After A Day Of Overeating
Stylish Celebrities That You Didn't Know Were Arrested
How to Recognize TBI Symptoms (Traumatic Brain Injury)
Date: 01.12.2018, 13:22 / Views: 62475
---