You will need
- 1 can of condensed milk,
- 3 eggs,
- 500 g of cottage cheese.
Instruction
We take the dishes, in which we will mix all the ingredients of the casserole. To begin with, beat the eggs and condensed milk, gradually add grated cottage cheese. Beat all 3 ingredients until a homogeneous mixture.
We take a baking dish and grease it with soft butter, so that the casserole does not stick when baking. The resulting homogeneous mixture is poured into a form, evenly distribute and put in the oven for 50 minutes. Or pour the resulting curd mixture into the crock-pot and bake for 50 minutes.
After 50 minutes, you need to check the readiness of the curd casserole, for example, using a regular toothpick. If the toothpick is wet, then we leave the casserole to be baked for some time, and if the toothpick is dry and the edges of the casserole are baked, acquired a golden or brown color, then you should get and enjoy the delicate and juicy taste.
Helpful advice
If desired, add raisins and dried apricots to the curd mixture and bake. Get curd casserole with raisins and dried apricots.
Tip 2: Cottage cheese casserole in a slow cooker
Cottage cheese casserole is a delicious dessert that everyone has known since childhood. Preparing in a slow cooker is very easy, fast and simple. Also curd casserole - a great solution for the arrival of guests.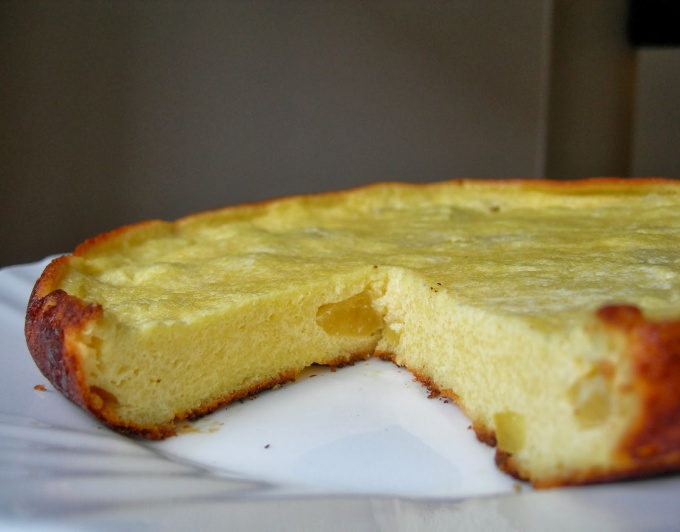 You will need
- Cottage cheese (curd mass with cottage cheese) - 500 g
- Eggs - 4 pcs
- Sugar - 5 st.l.
- Manka - 5 tbsp.
- Vanillin
Instruction
Separate the yolks from proteins. Beat up to the formation of a fluffy foam proteins using a mixer or blender. Add a pinch of salt.
Mix yolks with sugar, vanilla. Then add whipped whites. Thoroughly beat everything with a mixer or blender. At the end add semolina and vanilla (to taste).
Prepare the multicooker. We lubricate the bottom and walls with any oil (sunflower, cream) and set the "Warm-up" mode for 15 minutes.
While the slow cooker warms up, prepare the cottage cheese. Cottage cheese or curd mass must be minced or rubbed through a sieve. Then we add it to the rest of the ingredients.Thoroughly beat the mixture with a mixer or blender until a homogeneous consistency.
We distribute one tablespoon of semolina on the bottom of the multicooker. Next, add our "dough" in the bowl, close the lid. We set the baking mode for 55 minutes, the temperature is 160 degrees.
Bon Appetit!

Helpful advice
Serve cottage cheese casserole can be with sour cream or jam.